Liver Cancer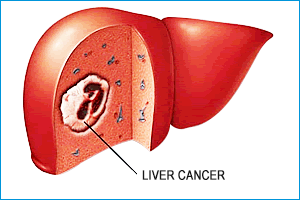 Which types of liver cancer can be treated ?

Hepatocellular Carcinoma, due to its preferential blood supply from the hepatic artery is amenable for catheter directed chemoembolization.

Can all patients with HCC be treated this way ?

No, there are specific criteria depending on the patient's clinical condition, the liver function tests, the size and location of the tumour as seen on a CT scan are all taken into consideration and then suitable candidates are selected for this procedure.

How is this procedure done ?

A standard angiogram is performed to look for tumour blood supply and the feeding artery is selected. It is then superselectively catheterized using a microcatheter. A combination of 'Drug Chargable" beads and a chemotherapeutic agent like Adriamycin is then injected into the feeding artery. These beads are typically less than 700 microns in diameter.

What are the advantages of this procedure ?

Targeted delivery of chemotherapeutic agent to the tumour greatly reduces systemic absorption and thus reducing side effects that are seen with systemic chemotherapy.

Concentrated dose is given to the tumour, thus more drug is deposited within the tumour even as a lesser total dose is used.

Are there any other agents that can be delivered this way ?

Similar to chemo-embolization, radio-embolization using radioactive beads which are deposited in a similar way can be used to deliver targeted radiotherapy to the tumor.

How is Chemoembolization done ?
It is shiny, silky, and guaranteed to be tangle free when taken care of properly. Our
virgin hair
is all you need for your extension experience. We have over 26 colors available. When it comes to
human hair wigs
look good and also have fun! We have any color you want to make that happen. We also have different
clip in hair extensions
for any method of extension application you choose. We have the best variety of
brazilian hair
and they are so easy to use. With the clip-ins you can put them in for a day.